Drought & Water Use Rules
What would life be like if water suddenly stopped flowing from our faucets?
There are several reasons Thornton could experience a water shortage including drought, limited access to water supplies or an emergency event in our distribution system or infrastructure. No matter what type of incident may cause a water shortage, Thornton's water service team has a plan in place to respond.
Drought is our most common type of water shortage event that our city (and our state) deals with regularly. As you are probably aware, Colorado is part of the semi-arid region of the southwest United States, and our precipitation is limited. On average, Thornton has about 77 days per year of precipitation, resulting in approximately 15.5 inches of rain each year compared to a city like Boston that receives about 43 inches a year.
For people that like to "geek out" on some of the details, scientists from the National Integrated Drought Information System (NIDIS) use tree-ring reconstructions and instrumental data to estimate drought conditions for the past 2000 years.
This image from the NIDIS illustrates 50 years (1967-2017) of Drought Status in Colorado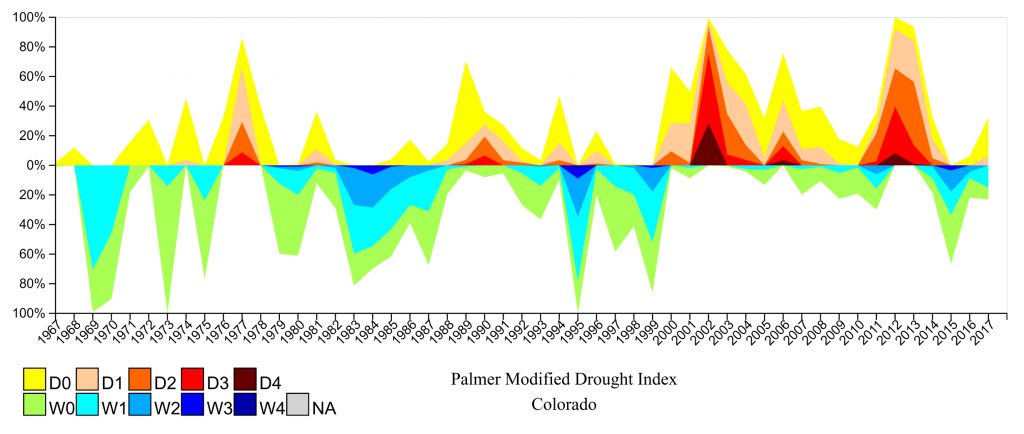 Some Thornton residents may even recall the severe winter droughts of 1976-77 and 1980-81 that spurned the development of the Colorado Drought Response Plan, building the foundation for water utility planning across the state.
Thornton's City Council adopted an updated Drought Management Plan in 2021., to provide management and operational guidance. The Plan draws from the lessons learned during the 2002, 2006, and 2012 droughts while prioritizing the following community water uses: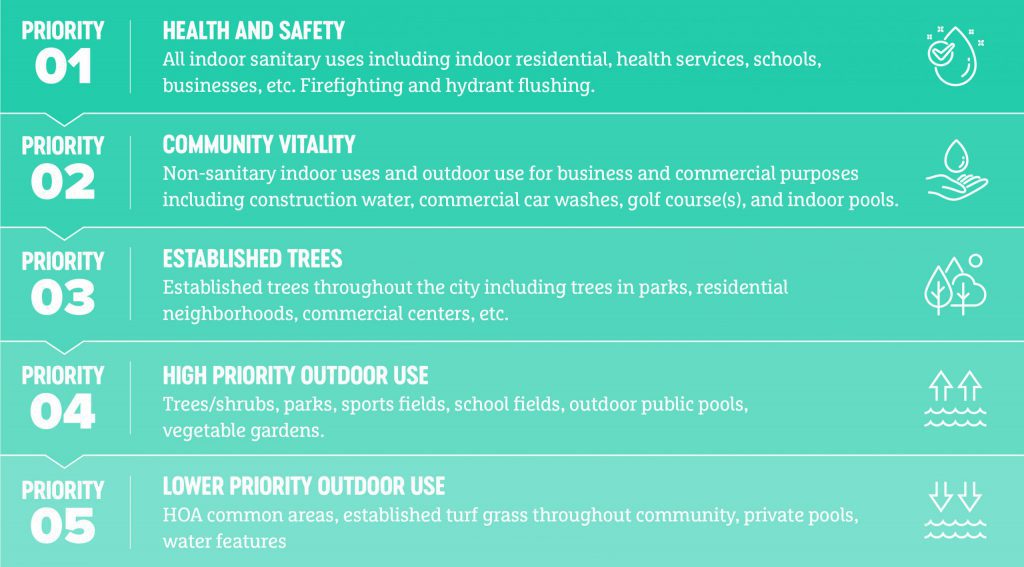 This plan was developed to maintain the health, safety, and vitality of the community while preserving overall quality of life for our customers. It includes three stages of drought severity to manage water shortage intensities and durations.

The past 22-year period of hot and dry conditions across our region has been unprecedented for 1,200 years according to a study published in the journal Nature Climate Change. In addition, recent 2020 and 2021 data from the NOAA Drought Task Force documents the lowest total precipitation and the third-highest daily average temperatures since 1895 in Colorado.
In 2021, Thornton City Council responded to our growing need to water-smart water use and adopted permanent Water Use Rules into City Code. The following turf/lawn irrigation rules will be enforced every year, April 1 – October 31 (watering vegetable gardens, plant materials, and new sod are not included):
Water no more than 3 days/week.
No lawn irrigation between 10 a.m. and 6 p.m.
Water waste must be remedied as soon as practicable, no more than 10 days after notice.
Water leaks must be remedied 10 days to repair after notice.
A courtesy notice will be provided for leaks and water waste. If not remedied in provided time, residential penalty starts at $100 and commercial/irrigation penalty starts at $250.
Consult our Watering Guide each month for recommended number of minutes for watering lawns.
Drought conditions are real, and we all play a role to ensure we have water supply far into our future. So again, what would life be like if water suddenly stopped flowing from our faucets? As we know,